Picked up the motor for the lathe today: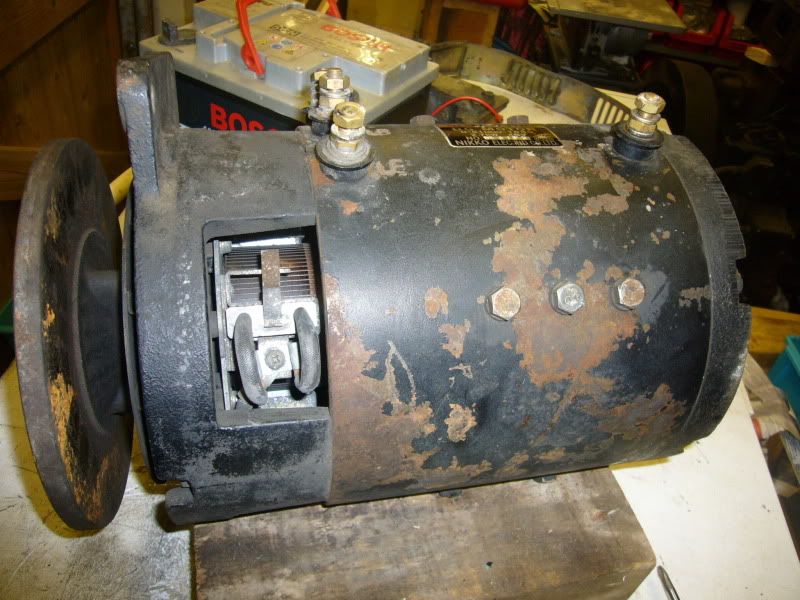 It has four terminals. Three terminals at the brush end of the motor and one at the other end of the motor.
The three at the brush end are Marked up LA, LB and LE. The one et the other end of the motor is LF.
There are four brushes onto the armature at 90 degrees to each other (90 degrees by eye) LA is connected to two opposite brushes and LB are connected to the other pair of opposite brushes. LE heads off towards the field windings and is also connected to LF so I am presuming LE and LF are the field windings.
I tried to measure the resistances. The field winding resistance is immeasurably small with my cheapy meter. The armature connections measure about 4.5 ohms and varies a a little bit with rotation.
I connected 12v to the field windings with a car headlamp bulb in series to limit the current and put 12v across LA/LB. It whired (at a sensible speed) into life nicely in both directions.
Edit: The arcing marks on the terminals were there already where someone has had a previous play about.
I am wanting to use this on my lathe so could do with advice regarding controlling the motor.
If the motor wants to rev itself to pieces then with the lathe in high gears it would probably have enough load to stop this happening. With the lathe in low ratios the motor could just whizz itself to pieces if I did not wire or control it correctly.
Some form of softer starting would be great too.
Hope you guys can give me some pointers for this.
Kind Regards
Rob